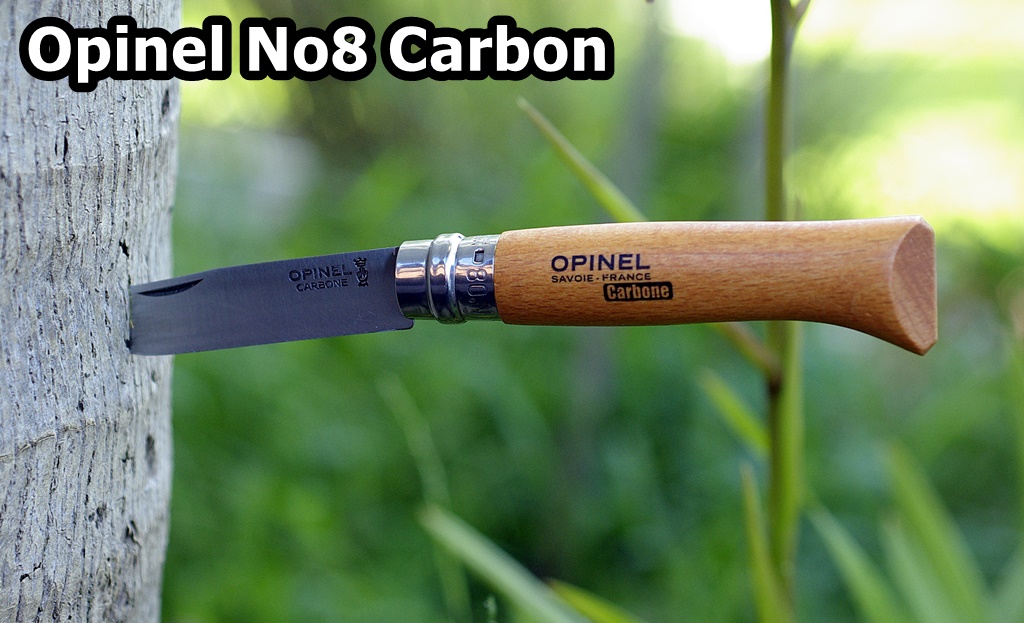 Why on earth did it take me so long to buy an Opinel ? ( I have no idea ) I did just cut a lot of cardboard strips with my Opinel No8 Carbon and the first thing I did was rush back into other house to order some more Opinel knives . I ordered another No8 from the same seller as well a No9 carbon from another seller . If you think your a knife guy ? and you don't own a Opinel . ( Better pull the trigger now ) .
As the knife came , the edge had a horrible bur on it that required removal . One of the first things I noticed was just how light this knife is , it's deceptively light . Once the bur was removed the No8 took hair of my arm with the greatest of ease . I simply could not wait so rushed outside to cut some cardboard ( we have lots of cardboard that needs cutting - I mean a lot ) . As I was cutting I kept checking the edge retention , the No8 just kept taking hair off my arm long after one of my Chinese knives would have been unable to cut butter . Edge retention was a surprise , a real eye opener for sure . The Opinel No8 simple take a huge dump on every Chinese knife I own . How can you slice so much cardboard and still take hair off your arm ? The Opinel does just that . As I said , I rushed back into the house and ordered more Opinel .
Cutting all that cardboard , I noticed just how comfortable and controllable the knife was . The Opinel is after all over 100 years old ( the design ) , and I guess I now know why this knife is still around . It has simply stood the test of time . If knife steel and performance matter ? Then you probably need an Opinel in your life . I am kind of tired of the crap steel knives and my current search is for knives that do something simple like CUT ! And not just one or two slices of cardboard , but so many slices that you get sick and tired of cutting cardboard . I think that the Opinel is the knife I have been looking for the last 20 years since Stainless steel took over from Carbon steel . I think the worst of it is all the BS that goes with the budget knives in regards to the blade steel . ( Liar liar panties on fire ) .
Anyhow , I am so impressed by the No8 that came this morning I ordered another No8 and a No9 . So if your looking for a cutter ? , you might want to put an Opinel in your life and maybe those Chinese knives in a Christmas hamper ( Get them out of your life ) . Well , that's how I feel after owning an Opinel for an hour or two .