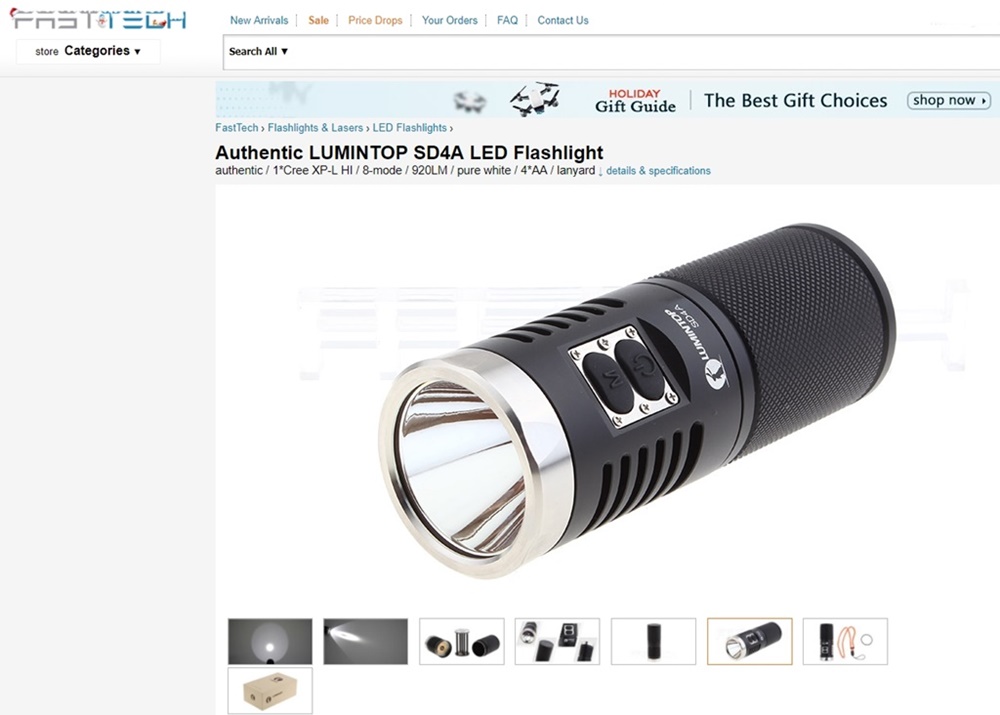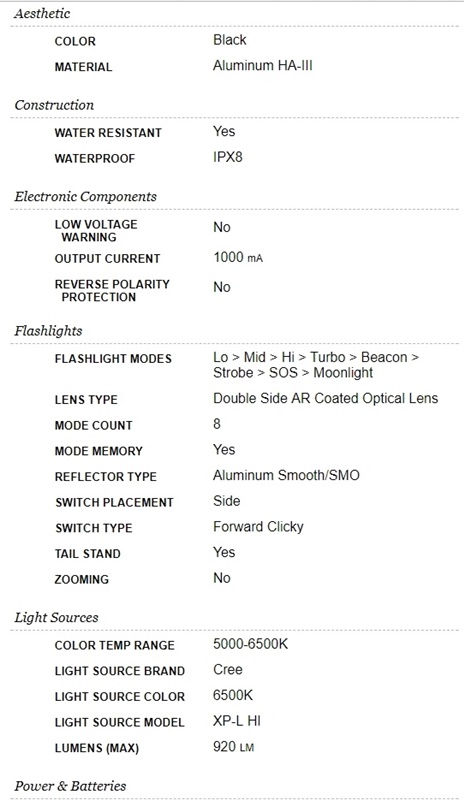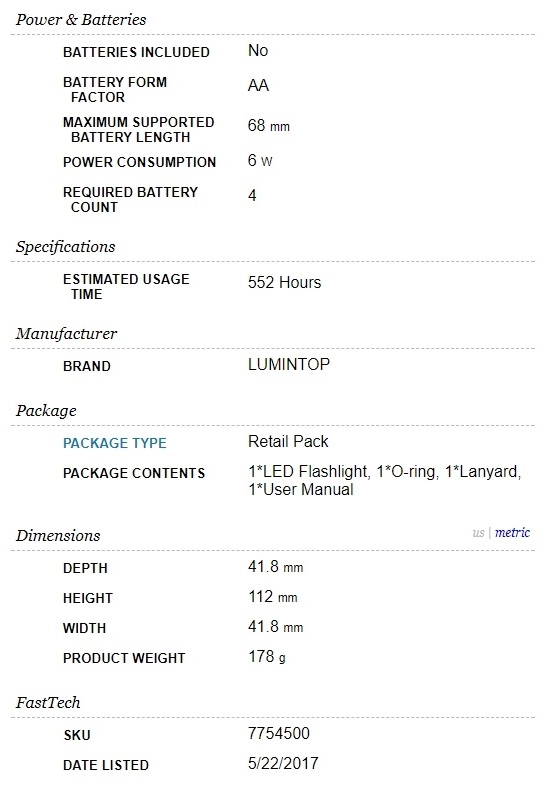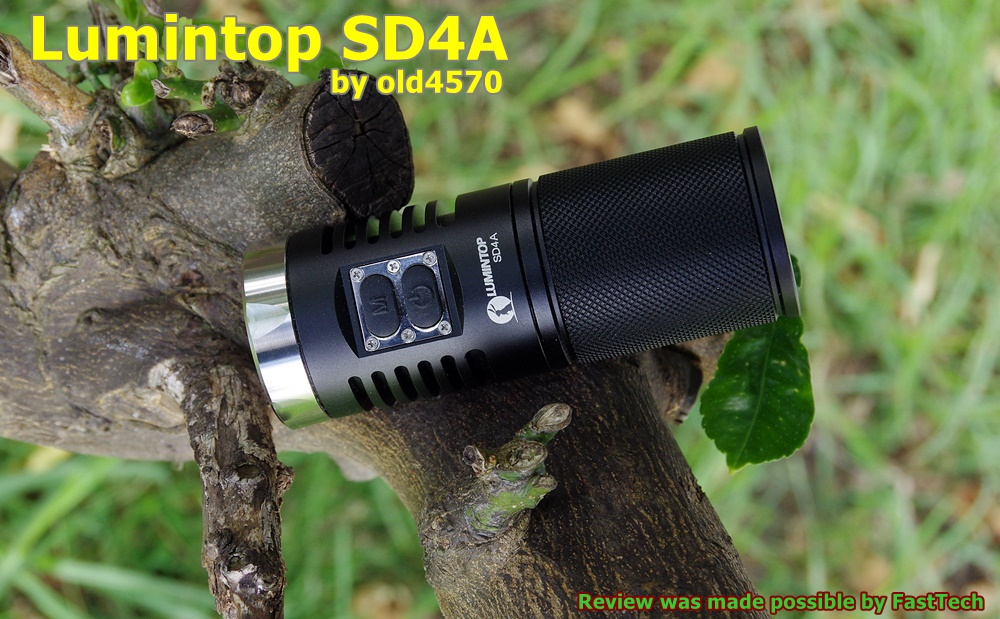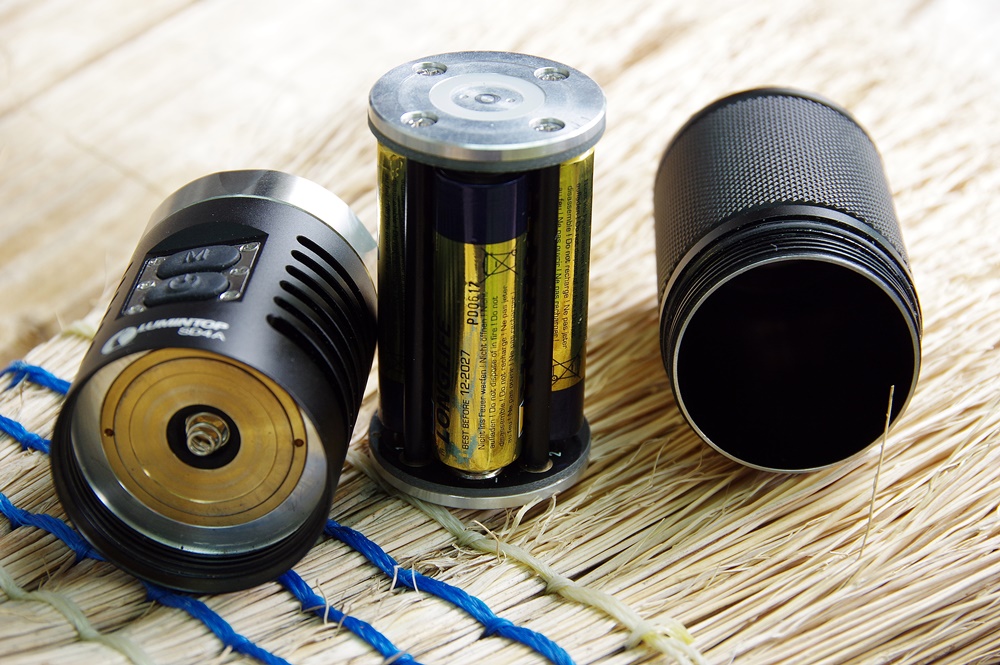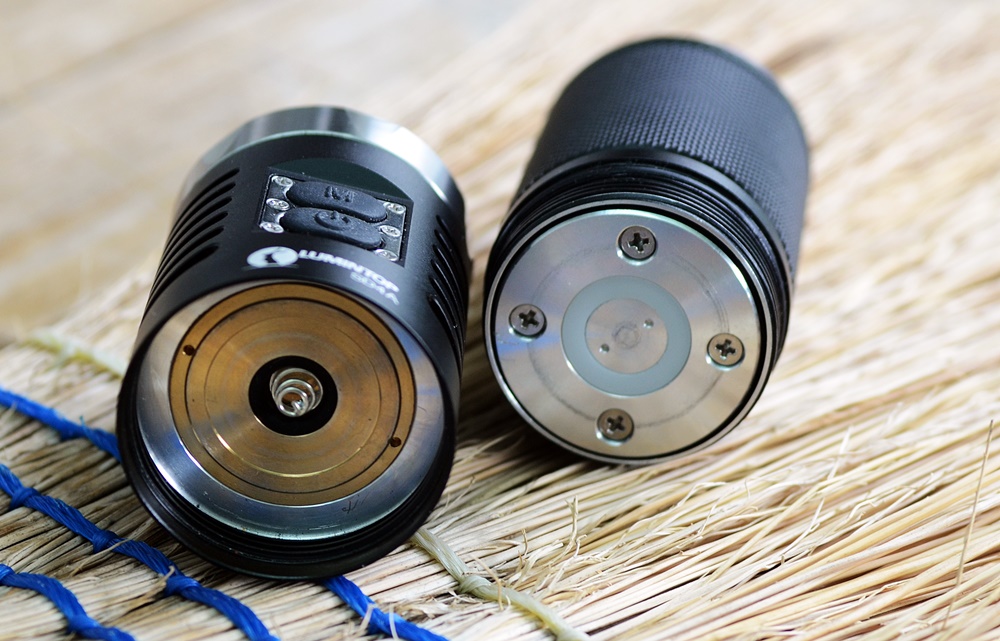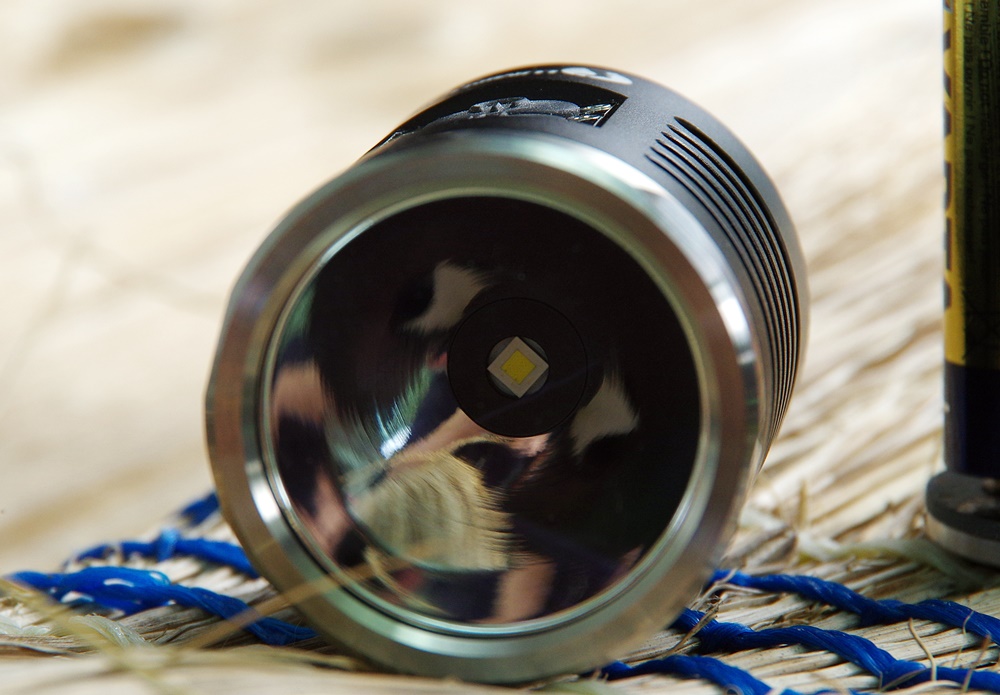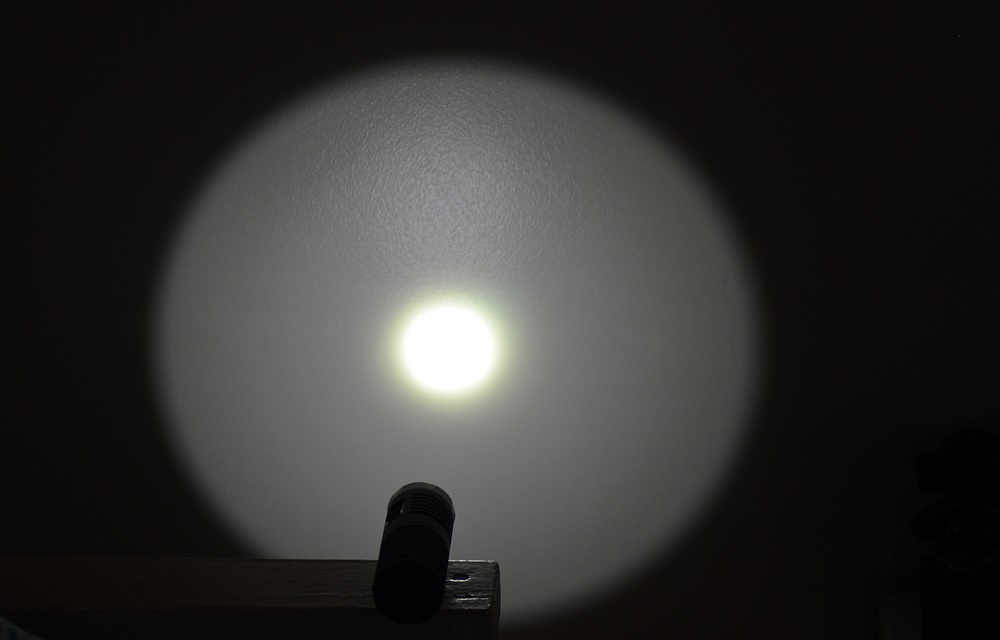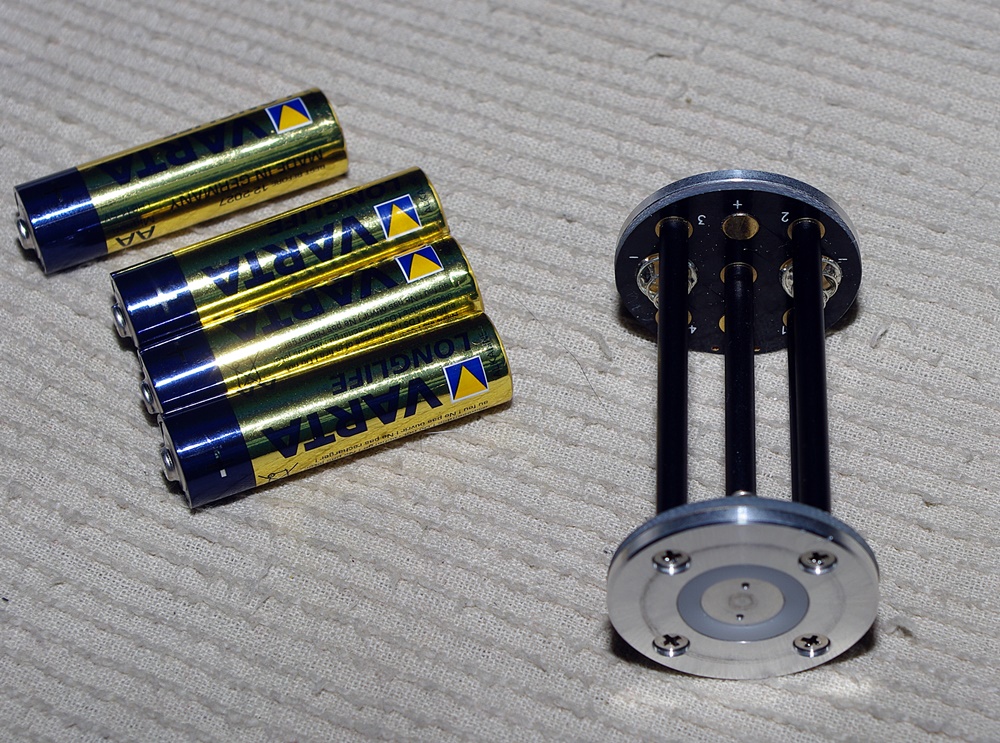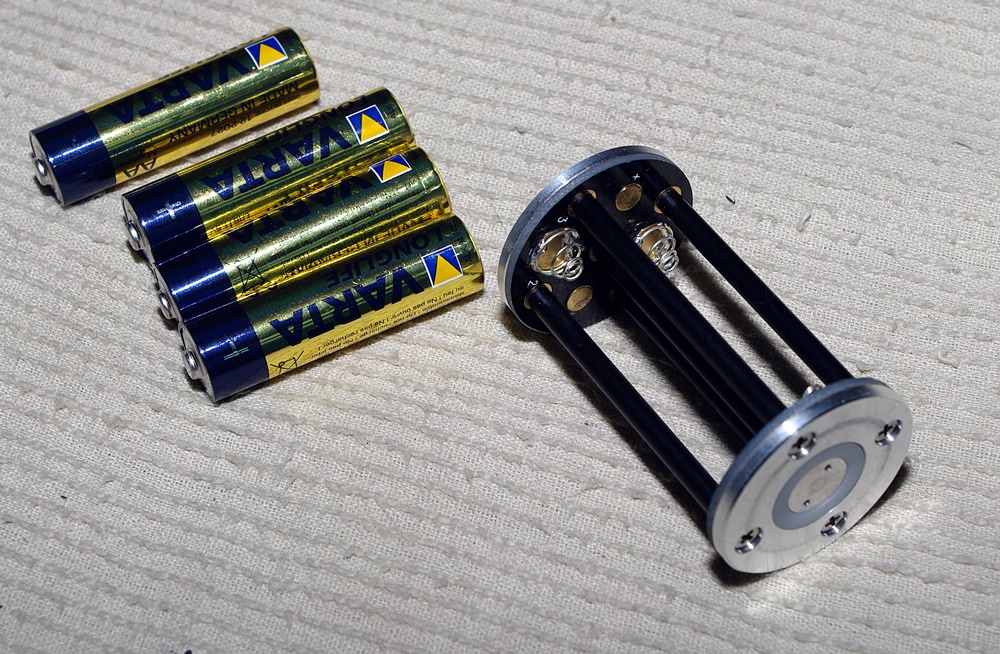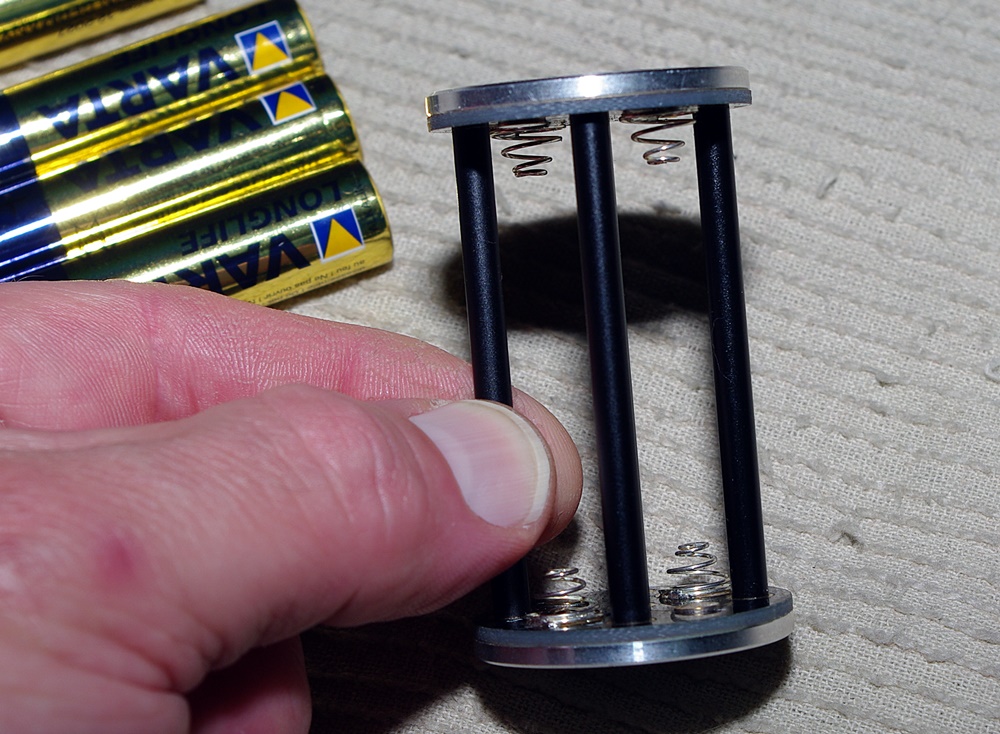 Review was made possible by FastTech
The folks at FastTech have made it possible for me to review the Lumintop SD4A and what a nice light it is . Whilst I am a real fan of the single 18650 flashlight format I also find AA lights very interesting . Modern technology makes it possible for the average Joe Six Pack ( non flashlight enthusiast ) to safely enjoy powerful flashlights and the SD4A is certainly powerful . There is only one thing I can can complain about and that's the power output > it's too high !
The build quality is really excellent , actually from a mechanical perspective I have absolutely nothing to complain about . Everything works as it should , the fits are as good as they need to be . There are not rattles or squeaks , the clicky buttons are excellent . The SD4A is just a pure joy to use and being AA gives you the opportunity to play with a lot of batteries . So before I say anything else lets get to the performance :
Alkaline Batteries :
Low > 39 Lumens / Medium > 470 Lumens / High > 664 Lumens / Turbo > 900+ Lumens ( Output was dropping quickly )
Eneloops : ( nimh )
Low > 38 Lumens / Medium > 370 Lumens / High > 657 Lumens / Turbo > 828 Lumens ( Holding output )
Vapex : ( old nimh )
Low > 38 Lumens / Medium > 370 Lumens / High > 474 Lumens ... The SD4A kicked it down a gear here and as a result
Low > 22 Lumens / Medium > 198 Lumens / High > 374 Lumens / Turbo > 485 Lumens My guess is the SD4A detected that the batteries could not sustain current so dropped the performance level to compensate for the batteries .
Kodak : ( nimh )
Low > 38 Lumens / Medium > 370 Lumens / High > 659 Lumens / Turbo > 941 Lumens ( Holding output )
Mixed NIMH :
Low > 38 Lumen / Medium > 370 Lumen / High > 662 Lumens / Turbo > 941 Lumens ( Holding output )
Philips Dry Cells :
Low > 38 Lumens / Medium > 369 Lumens / High > 381 Lumens ... and as with the vapex the SD4A dropped performance
Low > 22 Lumens / Medium > 198 Lumens / High > 374 Lumens / Turbo > 490 Lumens ( Dropping output quickly )
Moon Mode > Output was so low my light box would not measure it .
When it comes to current draw I can in no way vouch for accuracy due to the nature of the task ( Variables ) so please simply accept the following results simply as the measurements I was able to get .
Low > 0.047 amp / Medium > 0.6 to 0.69 amp / High > 1.6 to 1.7 amp / Turbo > 2 amps (?) and probably some .
In the video I am still running Alkaline batteries and unfortunately the digital camera ( Nikon D7000 ) tends to compensate / adjust for the light output .
Modes :
Besides Low / Medium / High / and Turbo , you have moon mode / disco mode ( strobe ) / SOS / and beacon .
To turn on and off you simply press the power button ( With the light tail standing > lower button ) The button above changes modes . When you turn the light on it will turn on in the last light level used . The on off button will not change light levels .
Moon Mode > Press and hold the on off button till the light activates . Pushing either button again will put you in low mode and the light will work normally .
SOS > with the light ON , press and hold the on off switch . Press either switch to exit SOS mode .
Disco Mode ( Strobe ) > Press and hold the mode button .. To exit disco mode press either button .
Beacon Mode > With the light on , press and hold the mode button .. To exit press either button .
I really am impressed by the build quality of the SD4A , it's seriously good . Now this is by no means a put it in your pocket and forget light ( EDC ) , it's probably more of a toolbox / glove box/ night stand / house / boat / car / caravan sort of light . It might also be an excellent back pack light , I just don't see it in your jeans pockets . It might ride in a winter coat ok , but it's kind of summer here at the moment and we just had 40deg C the other day . I'm not crazy enough to go walking in a winter jacket . The beam on this thing is really throw'y . For a relatively small light it really produces a serious hotspot and at first this really surprised me . I thought the SD4A might be more flood then throw but no , this is more throw than flood . This is definitely down to the position of the LED in the reflector as well the smooth reflector design . It makes short range use a little annoying as the hotspot reflects a lot of light back at the user , but at longer ranges it makes it easy to pick up small details . ( If you could find a mount for it , might make for a good night time varmint light )
Am I one hundred percent smitten by the SD4A , sorry no . This light jumps from aprox 40 Lumens to nearly 400 Lumens ( Low to medium ) and I simply can not help but feel the jump is just too much . ( With alkaline's the jump is from 40 to 470 lumens ) I would have liked to have seen a jump from 40 to maybe 200 Lumens and then have high around 500 Lumens and turbo 900+ . ( But that's just me ) So while the build quality ticks all my boxes , the light levels leave a little to be desired . Over all I am very impressed by the SD4A from Lumintop . I have never come across a light that can maintain 900+ lumens without suffering output sag . But the SD4A actually maintains output with good batteries for over 30 seconds and the sag is minor . So it looks like the SD4A has very good heat dissipation from the emitter .
Incredible output from AA batteries
Excellent Build quality
Tails stands really well
Very easy to use
Blinky modes are hidden
Uses AA batteries
Good output even from Dry Cells
Switches are excellent
Throws well ( if that's important )
Perhaps not that good for close work
Output levels could have been better
Battery holder goes in either way
No slop or noise when shacking the light vigorously
Threads are excellent / smooth
Anodizing is excellent
Price is good . ( $42.65 usd ) at time of review .
If I have to give the SD4A a score it would be 9 out of 10 .. I have deducted 1 point for the light levels ..
I would like to thank FastTech for the opportunity to review the Lumintop SD4A ( Thank you )