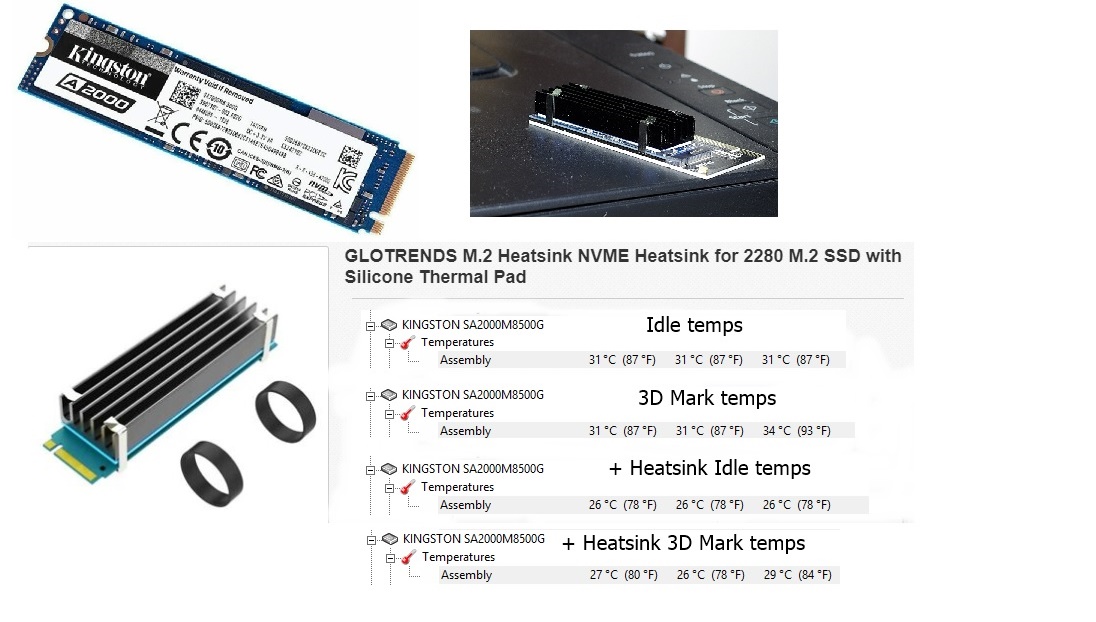 I recently decided I wanted M.2 SSD for my old puter to speed it up = FAIL ! That's right , pure folly on my part . For starters my puter is way too old for M.2 SSD even on a PCIe riser card . ( Which is what I did ) . The SSD is fast , and at least 3 times faster than my EVO . Unfortunately the BIOS on my board does not recognize the Riser mounted SSD . But windows does ! So now the SSD is my 2nd driver ( Host for software ) and the EVO hosts the OS .
I was wondering about a heat sink for the SSD as a lot of people report insane temperatures approaching 100 deg Celsius ( Which is crazy ) . Thankfully my SSD comes no where near such temps . Without the heat sink the idle temperature was 31 deg C and with the heat sink 26 deg C . ( Ambient being 20 deg C ) That is a very reasonable drop . Load was not huge , I was playing music - monitoring temps - and running 3D Mark . Without the heat sink the SSD hit 34 deg C and with the heat sink 29 deg C . Again I found this to be respectable for just a passive heat sink .
I cant run my OS from that M.2 SSD due to the age of my hardware , but as a second drive it will do just speeding up the software that loaded onto my system as everything but the OS runs from that drive .
Temps are - Current - Lowest - Highest .